Christ is in our midst! He is and ever shall be!
Our services are streamed live on the internet.
at our Saint Catherine website - www.stcatherine-wpb.org
Join us for Orthodox Divine Liturgy every Sunday at 10:00 a.m.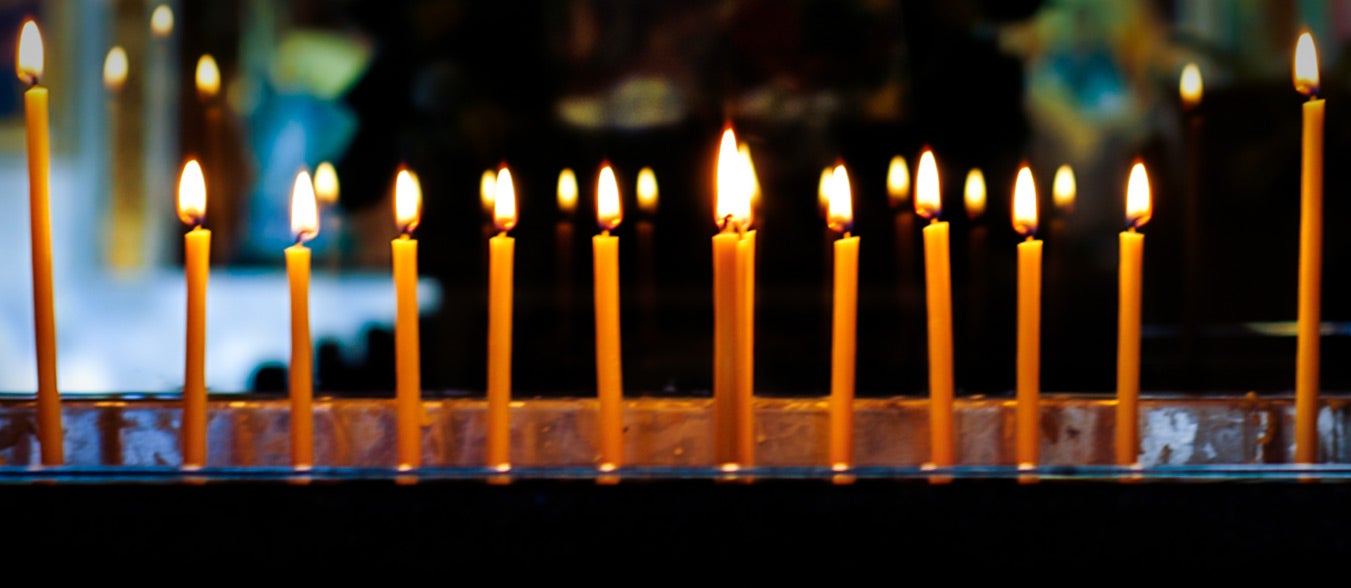 Light a candle and offer a prayer at Saint Catherine (click above). The online form sends the names of your family and friends direct to Father Andrew at the altar; prayers are offered during the Proskomidi in preparation for the Divine Liturgy!
September 12, 2021
Sunday Before the Exaltation of the Holy Cross
Apodosis of the Feast of the Nativity of the Theotokos
Detour approaching the church: Another road project has closed Washington Road directly in front of the church. From Southern Blvd turn South at Olive Ave, go one block to Malverne Road, then turn left to the church.
Note - GPS directions are incorrect for the last block to the
church due to the ongoing bridge construction.
Important Notice: We now require masks inside the church and the Hellenic Cultural Center for all adults (vaccinated or not) and children at all parish worship and activities. This policy was implemented for the safety of all. The Parish Council will evaluate this COVID -19 protocol monthly as conditions in Palm Beach County change.
Holy Communion: When the faithful approach the Holy Chalice, they should stand with respect before the priest and say their baptismal/chrismation name. After the name is uttered, the faithful should open their mouth to receive Holy Communion. When the spoon goes into the mouth, the faithful should close their mouth and make sure that they swallow the consecrated Bread and Wine. Every person who stands before the Holy Chalice, should not have any contact with the red communion cloth, before, during, or after receiving Holy Communion. The red communion cloth is to be placed under each person's chin by those who are assisting the clergy. Under no circumstances should the red communion cloth be used as a table napkin to wipe the mouth, nor should one who has received Holy Communion touch it at all.
Coffee and Fellowship: Our Philoptochos welcomes everyone to join us for the coffee and fellowship hour in our Hellenic Cultural Center following the Divine Liturgy. Today however, a special coffee hour by the Sunday School honoring grandparents.
____________
This Week at Saint Catherine
Sunday, September 12 Sunday before the Exaltation of the Cross
8:45 am Orthros - Link to the Orthros Service text
10:00 am Divine Liturgy - Link to the Divine Liturgy text
National Grandparents Day, Coffee Hour by Sunday School
Saturday, September 18 Metropolis Virtual Clergy-Laity Conference
Highlights of Upcoming Services and Events
Sunday, September 19 Sunday After the Exaltation of the Cross
8:45 am Orthros / 10:00 am Divine Liturgy
Holy Cross Sunday
Tuesday, September 21 Philoptochos
10:00 am Board Meeting
12:00 pm Meeting
Wednesday, September 22
7:00 pm Parish Council Meeting
Saturday, September 25
7:00 am - 1:00 pm Greek School Garage Sale
2021 Stewardship: We are grateful to those who completed, or are completing, their financial pledge for 2021. For those who have not yet sent in a donation, please take a moment to do so — join our Saint Catherine family. Your Stewardship gift reflects your appreciation for God's many blessings.

Click here for the 2021 Stewardship Program. The Commitment Form is here. As of September 3rd, 223 individuals and families have either begun or completed their 2021 financial pledge. This includes 34 first-time and returning stewards whom we warmly welcome to our Saint Catherine family.
Youth Safety Resources
We're committed to connecting young people with Jesus Christ. To do that, we need to create ministry environments that are safe and health. For more on how you can help, please visit our new Youth Safety website: goarch.org/safety.

Many of our Divine Liturgies have been recorded and can be viewed at www.youtube.com. Subscribe to our YouTube channel:
Saint Catherine Greek Orthodox Church (2020 and 2021 services)
Saint Catherine Greek Orthodox Church (Selected services from 2015-2019)
Shop with Amazon, donate to Saint Catherine

Amazon Smile is a program that allows for 0.5% of your eligible Amazon purchase to be donated to our Saint Catherine Church (No Added Cost To You). To sign-up visit Sign up for Amazon Smile and press "Select" next to our church name. Then remember to log in to "smile.amazon.com" when you shop.
________________________
Family Life Blog

Our Metropolis of Atlanta Family Life Blog has wonderful inspiring material for families and each of us as individuals. Read and share the Family Life blog which is at: https://www.engageorthodoxy.net
Orthodox Christian Programs
We have Orthodox Christian programs available 24 hours a day, seven days of the week. There is the weekly Come Receive the Light program and three channels of content to listen to in addition to special presentations in the form of podcasts, articles and videos. Take a break from your routine to read / listen / watch the Orthodox content from the Orthodox Christian Network (OCN). All are all available at: http://myocn.net/